Hope On, Hope Forever – The Legacy of Edith Onians
Edith Onians is truly one of Australia's unsung heroes. Few will know of her generosity and record of achievement in child welfare in the 19th and 20th centuries in Melbourne, but her legacy lives on through the Newsboys Foundation.
Edith was born in rural Victoria in 1866, the daughter of devout and wealthy Anglicans.  She was educated at the Fontainebleau Ladies' College in St Kilda, Melbourne. In 1896, Edith was struck by the plight of the underprivileged, in particular, Melbourne's newsboys, who, if not intermittently homeless, were from poor backgrounds and forced to sell newspapers to help their family eke out a living.
 In the last decade of the nineteenth century, newspaper circulations in Melbourne more than doubled to 100,000. The city was replete with newspaper boys on every street. Edith was disturbed to learn that none of them could read or write. When her father died she was left with an income and independence that allowed her to follow her real passion – charity work. Edith recalled in her later years how she was first inspired to her life's work, at the age of 11, by an image in a book called "Hope On, Hope Ever."
There are thousands of underfed and overworked children who went on to became good fathers, loving husbands and caring and compassionate men that owe much to this great Australian who never ceased to fight for them.
She joined the Melbourne Newsboys Club, or "Newsboys Try Society" in 1896 with the hope of offering education to the newsboys in elementary reading and writing.  The society, which had been formed by William Forster, was run simply with the aim of improving the conditions for working children. It was free to join.
She managed to find some old desks and chairs and opened a school out of a basement below the old Bijou Vaudeville Theatre in Bourke St, in the Melbourne CBD. Within a decade, and having fully committed her life to helping improve these boys' lives, Edith pioneered the development of early trade course classes. This move saw the society expand its membership, with tanners, bootmakers, and painters and lift boys joining the ranks alongside the newsboys. At the same time, the society also provided cheap lunches and hot dinners.
Edith was passionate and dedicated to improving the lives of the newsboys in her care. As a result the society began offering other provisions such as second-hand clothing, Sunday-school classes, recreational and sporting activities, a library, vocational guidance, employment opportunities, free medical and dental care, welfare assistance and a country holiday-home for impoverished mothers of newsboys.
As the society grew, its operations moved to a two-storey building at 109-119 Little Collins Street in 1923. It contained medical and optical rooms, classrooms for metalwork, pottery, boot-repairing, carpentry, fretwork and shorthand, a gymnasium and concert hall, a dining-room, kitchen and pantry, a swimming pool and recreational rooms.
Despite the number of activities offered by the society, Newsboys was never a place operated for the purposes of making money, but rather as Edith put it, its aim was to 'make men'. Edith believed that to 'build boys right' you had to improve their social, moral and spiritual fibre and redirect their energies into positive and worthwhile ventures. Edith also recognised that the condition of some of the boys reflected their home life and so she embarked on a series of home visits. In one year she visited more than 600 homes. Many of her other social-welfare activities related to Melbourne's newsboys, and where she could, she organised gifts of food and blankets for the most needy.
Edith remained in her job for over 57 years and was active right up until her death in 1953, an impressive and honourable record of social service. Despite her affluence, she dedicated her life to helping the underprivileged.  There are thousands of underfed and overworked children who went on to became good fathers, loving husbands and caring and compassionate men that owe much to this great Australian who never ceased to fight for them. Theirs is a testimony to the belief, tenacity and vision of Edith Onians or "Miss" as she was fondly known.
 "It was something wonderful for the thousands of kids who passed through its doors, particularly those who had no money. It helped them when they were struggling and it was a place where they could have fun, where they could learn valuable skills and to stand on their own two feet…."

Bob Urquhart, former newsboy
In 1953, two years before her passing, Edith shared some philosophy on the work that had consumed much of her life: 'I believe sincerely that no boy … is irreclaimable. Every youngster … born into Australia is a potential source of wealth and happiness [and] is capable of being turned, by appropriate treatment, into a useful citizen …'
No less than 20,000 boys received tutition and care at the hands of Edith Onians. The Newsboys clubrooms in Little Collins Street have since been replaced by a hotel and the club itself became the Newsboys Foundation in 1973.
Since then, the Newsboys Foundation has helped more than 300 community groups to support young Victorians. The Newsboys Foundation provides grants to community organisations working with young people aged 11 - 18 years in Victoria who are experiencing disadvantage. You can read more about the work of Newsboys Foundation here.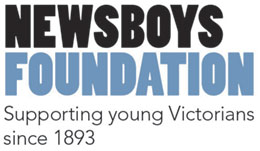 You can also make a tax deductible donation to this most worthy cause here.
Dedicated to the memory of Edith Charlotte Onians (1866-1955).
Sources:
http://oa.anu.edu.au/obituary/onians-edith-charlotte-7911
http://adb.anu.edu.au/biography/onians-edith-charlotte-7911
Age (Melbourne), 18 Aug 1955
http://www.abc.net.au/worldtoday/content/2012/s3480163.htm
http://newsboysfoundation.org.au/gary-tippets-history-of-the-newsboys/
All images copyright Newsboys Foundation, unless otherwise stated.